Added new FAQ Topic
some optimizing for mobile devices
Viewport values replaced to fix scaling bug on mobile devices
SmartTemplates :: Home
Site Map
Introduction
SmartTemplates is the next generation of the popular Mozilla Thunderbird addon SmartTemplate. It offers an easy way to customize default quote header by using templates. Templates can be created for every account as well as for global settings (for all email accounts).
Development of the original SmartTemplate by gaby_hy (H. Yasuda) has been discontinued for time reasons.
SmartTemplates builds on this original add-on with written friendly permission from the original author. SmartTemplates works with Thunderbird, SeaMonkey and Postbox, additional information to this you can find on our Version History.
Getting Started
For instructions on how to get started using SmartTemplates, please head on over to our Quickstart Guide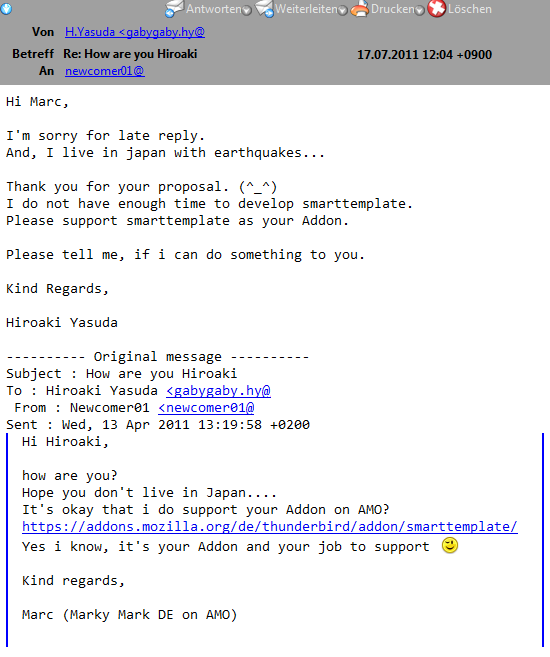 Features of this Addon
Custom Templates can be automatically used for composing, replying and forwarding messages
HTML and Plaintext supported
Adding your Signature to your mail template (from Thunderbird Account settings)
Define seperate templates for new messages (compose), reply and forward messages
Mail templates can be defined for each account or common for all accounts
Intelligent content in your template by use of keywords (variables)
This add-on does not change the default config settings (e.g. mailnews.reply_header_xxx)

*




*

This means that global settings and other Addons are not affected by its installation.
Version 0.8.5.6 onwards internal functions rewritten into ECMAScript5 strict mode (

"use strict";

) for more security
Version 0.9.3 onwards do support the integration of Stationery Add-on for more power with HTML e-Mails!
Translations (localizations)
SmartTemplates is currently translated into the following 16 languages (locale):














Would you like translate SmartTemplates into your own language?
Please visit BabelZilla and start a new locale for your language.
Would you like correct or complete your language?
Please join the translation Team for your locale on BabelZilla.

For further questions please feel free to contact us.
Please, leave some feedback at the Mozilla Addons Page - spread the word so more people start using it!